Children's Tours with Sally Children's Tours with Sally
Children's Tours with Sally Children's Tours with Sally
---
---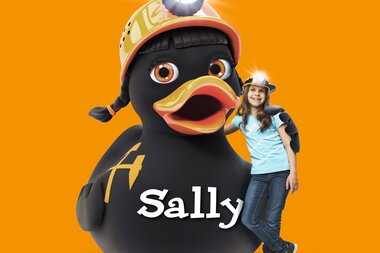 Everything you need to know at a glance
Ticket price: Children's Tours with Sally cost € 17,-- per person. This price includes a small gift as well as a photograph from the slide.
Dates: From June 2021 each Sunday at 11:30 a.m. and every Tuesday at 3:30 p.m.
Length of the tour: The tours takes about 80 minutes to complete.
Photo: During the tour, we will also take a fun souvenir photo of you on the slide.
Tour distance: Sally shows children her world - and will march with the youngsters 1.5 kilometers into the mountain. So, please, make sure your children are wearing sturdy shoes.
Language: Children's Tours with Sally are only offered in German.
Age restrictions: We are happy to welcome children ages 4 and up at the salt mine. Please be aware that younger children are not permitted to ride into the mountain.
Other things you should know: The temperature inside the mountain is a relatively constant 10 degrees Celsius. For this reason, and to make your visit to the salt mine more comfortable, we recommend that you and your children wear warm clothing and sturdy shoes regardless of the weather or time of year.
---
Fun above ground for young visitors
Children ages 4 and up are welcome to join Sally on this journey. But there's also lots for even younger guests to discover here as well. For example, we have a fantastic adventure playground at the Celtic Mountain on the Dürrnberg right by the salt mine. They are also sure to have a wonderful time in the Salt Mine Shop, where they will find marvelous items made of salt - and so much more.
You can now purchase our products also in the new webshop!
---
ONLINE TICKETS
No one likes to wait. And long waits are twice as unpleasant with children. That's why we recommend taking advantage of the salt mine's practical online tickets – which you can order from the comfort of home or your hotel room! With your online ticket, you will save time and not have to wait at the ticket window. Perfect for a relaxed outing with your whole family!
Still have questions about our guided tours, prices or opening times? The Salt Mine Team is always happy to answer your questions by E-Mail or on the phone. We look forward to hearing from you!
Also visit our Childrens Tour at Salzwelten Altaussee.