Salzburg: The "Salzwelten Destination Guide" Use the Salzwelten app to delve even deeper into the history of salt mining and the world of the Ancient Celts. 
"Woah, mom, dad! Look at this! How cool is that?! I just posted a selfie of myself with a Celt on Instagram! See, with that amazing gold headdress and a jug in her hand! And before that, I was chatting with Salia, the Celtic girl, and I helped her become a Druid priestess!"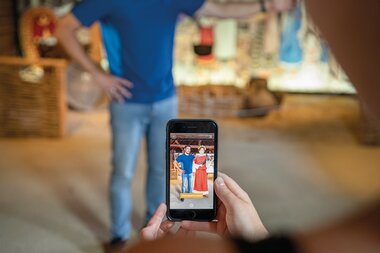 Be prepared for exclamations of joy and excitement like this when you explore Salzwelten Salzburg with the help of the "Salzwelten Destination Guide". Not only does this app contain all kinds of extra information about salt mining and the Celts who lived here on the Dürrnberg 2600 years ago, it also includes lots of interactive adventures and virtual experiences. Our app is great fun, and not just for your youngsters …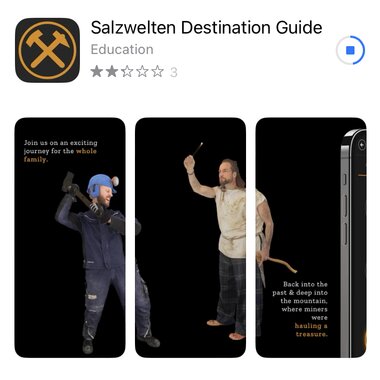 But first: Download!
Before your virtual adventure can get underway, you'll first have to pull out your smartphone and download the app! The "Salzwelten Destination Guide" – which is the official name of the Salzwelten app – is available for download from the App Store and Google Play. And it goes without saying that it's free. Installation is simple and takes only a couple of minutes. A few clicks and you're ready to go!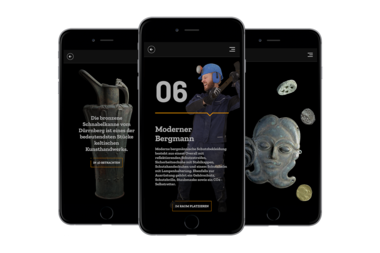 Ready for Celtic quests, mining experience, & more?
Once you've downloaded the Salzwelten app, you will be ready to explore Salzwelten Salzburg virtually. At the visitors' center as well as on Celtic Mountain, you will be able to use the app to access additional digital content. But what does the "Salzwelten Destination Guide" contain exactly? It's no secret: the app includes a variety of features, from audio guide to AR experiences.
These features are included in the Salzwelten app
Hear, hear: the Audio Guide
During your underground tour of the salt mine, you will be able to hear even more exciting tales and fascinating details about salt, the "essence of life" thanks to the audio guide, which can also be accessed through our app. Furthermore, you will also encounter 12 audio-guide stations above ground as you explore Celtic Mountain and the Celtic Village SALINA. The stories are told in interesting ways that are sure to grab your attention. Our tip: Simply sit down – perhaps on a bench overlooking the Salzach river valley, or indoors, in one of the authentic replica buildings – and then listen to a few of the stories in peace.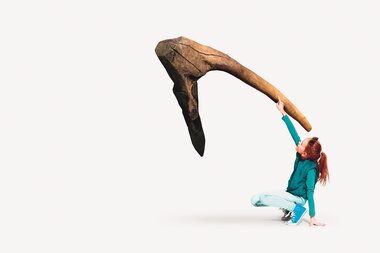 Wow, how realistic: the Augmented Reality function
Time and again, with several different opportunities you will discover through the app, you will be able to use 3D Augmented Reality to place people or objects in various spaces and view them up close from all angles. This feature showcases several Celtic exhibits and specimens, such as a richly ornamented dagger and the armor of a Celtic warrior.
Have you ever looked into the eyes of the mythical monstrous creature depicted on the famous beaked jug from the Dürrnberg? Or held a Bronze Age salt pick in your hand? Thanks to AR, all the prosperous residents of the SALINA Celtic Village are gathered in the elder's house, and miners from all four salt-mining eras also pay a visit to the village. And of course, you can take photos with objects and people, sharing them directly with your friends or posting them on social media. Don't forget to smile and say "Saaaaalt!" The AR function is great fun, and you learn a lot too…
TIP: Speaking of the Celtic dagger and beaked jug
If you want to see valuable artifacts from Celtic times, such as the beaked jug from the Dürrnberg or the golden headdress of a wealth Celtic lady, not just virtually but also in person, pay a visit to Celtic Museum of Hallein at the foot of the Dürrnberg. As an added benefit, admission to the museum is discounted with your Salzwelten ticket! Yet another way that a visit is worth your while.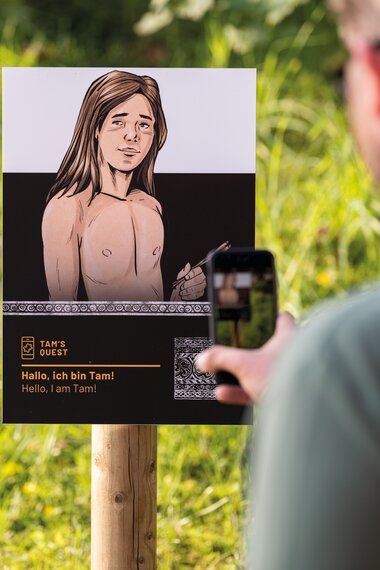 Help Tam & Salia: two virtual quests for kids
The Salzwelten app gives little explorers two virtual quests as a playful way to learn more about the world of the Celts and the history of salt. There's Tam´s Quest: The Celtic boy needs to replace his father's broken pickaxe, and your task is to help him work with the villagers to replace the tool. There's also Salia, who wants to become a druid and needs to collect healing herbs to make a compress. Tam and Salia will be right there at your side virtually as you explore the entire Celtic village in the real world. Along the way, you will have to solve puzzles, find hidden plants and objects, scan codes and complete tasks. And by the time you are done, you will have accomplished – hopefully – both of these missions!
TIP:For parents of kids who aren't exactly fans of the outdoors
Distracted by these exciting quests, your little loved ones will practically zoom up and down Celtic Mountain, totally forgetting that they have been "forced" to be outdoors. And if the weather outside isn't exactly ideal, that's not a problem either: The tasks can be completed inside the huts as well. That said, a visit to the salt mine is always possible regardless of the weather conditions, since the "weather" deep inside the mountain is always the same. Spring, summer, autumn and winter – always dry and 8 degrees Celsius …
Bottom line: App, app, hurray!
The "Salzwelten Destination Guide" is an app that's full of surprises, awakening the spirit of exploration and discovery in everyone, big and small. The combination of reality and objects to touch and things to try in virtual reality makes it possible to immerse yourself in the topic of salt mining and the world of Celts more deeply than ever before. And during the quests, you might also feel a little like Indiana Jones on a hunt for Celtic treasure, or something like that — of course, without the unpleasant encounters with tumbling boulders or snake-filled pits. Thanks to the app, your own adventure in the salt mine or on the Celtic Mountain will likely be even more fun and entertaining.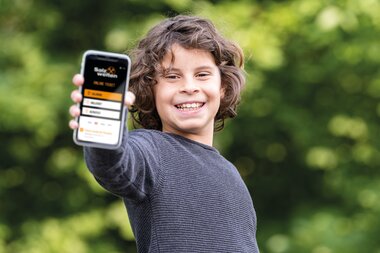 So, have we inspired you to take a journey into the world of Ancient Celts, salt miners, and exciting adventures? In that case, now's the perfect time to buy your tickets for Salzwelten Salzburg and the Celtic Mountain!
To Tickets
TIP: Audio Guide for Salzwelten Hallstatt & Altaussee via App
Did you know that you can also use the app at our two other Salzwelten locations – in Hallstatt and Altaussee – to access their respective audio guides? Never been there? Well in that case, there's no time like the present. It's time to put on your explorer's hat and visit them both!